In May, the Heard Museum opened an exhibition showcasing 28 selections from a ledger book made by six artists from the Southern Cheyenne and Arapaho Reservation between the late 1870s and 1882.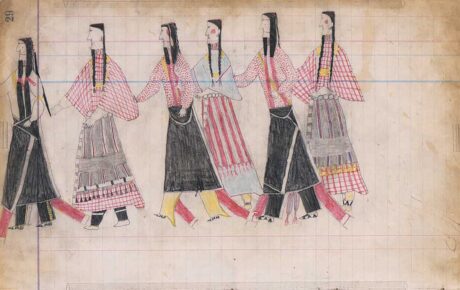 The exhibit, "Between the Lines: Art from The No Horse Ledger Book," also features historic photos from the Connell Collection. An archive of these historic photos can be found at the Heard Museum's Billie Jane Baguley Library and Archives Digital Library in the Trustrim Connell Collection.
Ledger art is a continuation of artistic painting traditions that were done on buffalo or elk hide. When graphite and colored pencils, ink, watercolors and ledger books, provided by traders and government agents, were introduced those same artistic skills and knowledge of art were transferred to ledger paper.
The artwork in the No Horse Ledger Book primarily depicts scenes of warfare and includes processional group dances and displays of horsemanship. The images reveal the artistry and individualism of the makers, expressed between the lines of ledger paper.
This is the first time the Heard has focused exclusively on the collection of drawings from The No Horse Ledger Book since it was given to the collection by the Connell Family in 1982, who had it in their private collection for more than 100 years.
Trustrim Connell, a Civil War Medal of Honor recipient, was in charge of the Wells Fargo Agencies in Indian Territory during the 1880s when his family acquired the ledger book. It is one of the rare ledger books that remained intact with a single family.
"Between the Lines" will be on display through April 23, 2023, at the Heard Museum, 2301 N. Central Ave., Phoenix. For more information, call 602.252.8840 or visit www.heard.org.